Thank goodness it's Tie Day!!
For those of you who come to blogs for the politics, but end up staying for the fashion, (we know you're out there!) KV and I are proud to declare Fridays Tie Days, effective immediately and ending whenever we decide we're sick of talking about John Kerry's ties. Or, I guess, whenever John Kerry stops wearing ties, which is frankly too upsetting a thought to even contemplate.
The Tie:
See fig. 1
The color:
Orange. Not quite Hermes orange, but similarly striking. What's interesting about that is, although orange happens to be my least favorite color, this is probably my favorite of all the Senator's ties. I think it's gorgeous, professional, and perfect for John Kerry.
The pattern: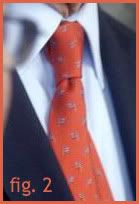 A zoom (fig. 2) reveals a pleasing but subtle pattern of what appear to be American flags. Note the obvious but non-obnoxious patriotism in the design.
The designer:
This one is a puzzler. I alluded to Hermes, but a closer look rules out the possibility that this tie is Hermes. The flags are somewhat reminiscent of the
Vineyard Vines
ties the Senator frequently wears, but the pattern is too loose to be VV. Nor does this tie appear in the VV catalogue. And that's really neither here nor there - although, in the interest of research, if anyone has any information, I invite you to leave us a comment.
Shown here during:
a January 18, 2006 meeting with Iraqi President Jalal Talabani in Baghdad. Much to our chagrin, photographs of the Senator wearing the tie in question before or since that date have not revealed themselves. Let's hope he didn't get it for Christmas, wear it to Iraq, and get ink all over it or something.
Ranking:
I really feel like we should have had some system by which we could rank the Senator's ties, but that never occurred to anybody. So I'll just rank this as my #1 favorite Kerry tie, because that's what it is. Also,
let's give it a stupid Democrafty nickname for future reference.
Stupid Democrafty Nickname for Future Reference:
Orange Crush.
If you see John Kerry wearing this tie:
Low five! (fig. 3)
What we think Tim Gunn would say about this one:
"Senator! You made it work!"