Tie Day: Same Guy, Same Ties, Different Color Commentator
This week: THE FISH! (no, not the green tie for St. Patrick's Day -- we are nothing if not subtle!)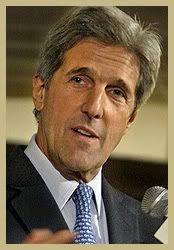 I can't even think of matching Democrafty's breezy, informed charm when it comes to ties, so this week's Tie Day entry will be a change of pace!
I was thinking of writing just a tie-ku and letting the pictures (courtesy of Democrafty's imaging skill!) speak for themselves, but my charming fellow blogger reminded me that a limerick would be HIGHLY appropriate to St. Paddy's Day and even suggested, of all things, a
clerihew
!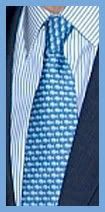 This is definitely one of my favorites among the Senator's ties, and I called dibs on it as soon as Democrafty suggested Tie Day. The only explanation I can find for wearing a tie with fish on it is that it is meant as a gesture of homage and support for one of Massachusetts' traditional industries...! Anyway, I love it and it makes me smile whenever I see it.
Tie doggerel forthwith:
TIE-KU
Why fish, Senator?
Could it be a tribute to
Your state's schrod quota?
Clerihew, or should that be Kerryhew?
John Kerry
Seldom sedentary
His ichthyocentric tie
Makes him the cynosure of every eye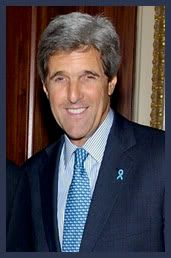 Limerick
A senator hailing from Boston
Wore a tie with fishies embossed on
Although it might seem
A whimsical theme
How dreary should he a madras don!